Riverhead Books
Ultimate glory
Frisbee, Obsession and My Wild Youth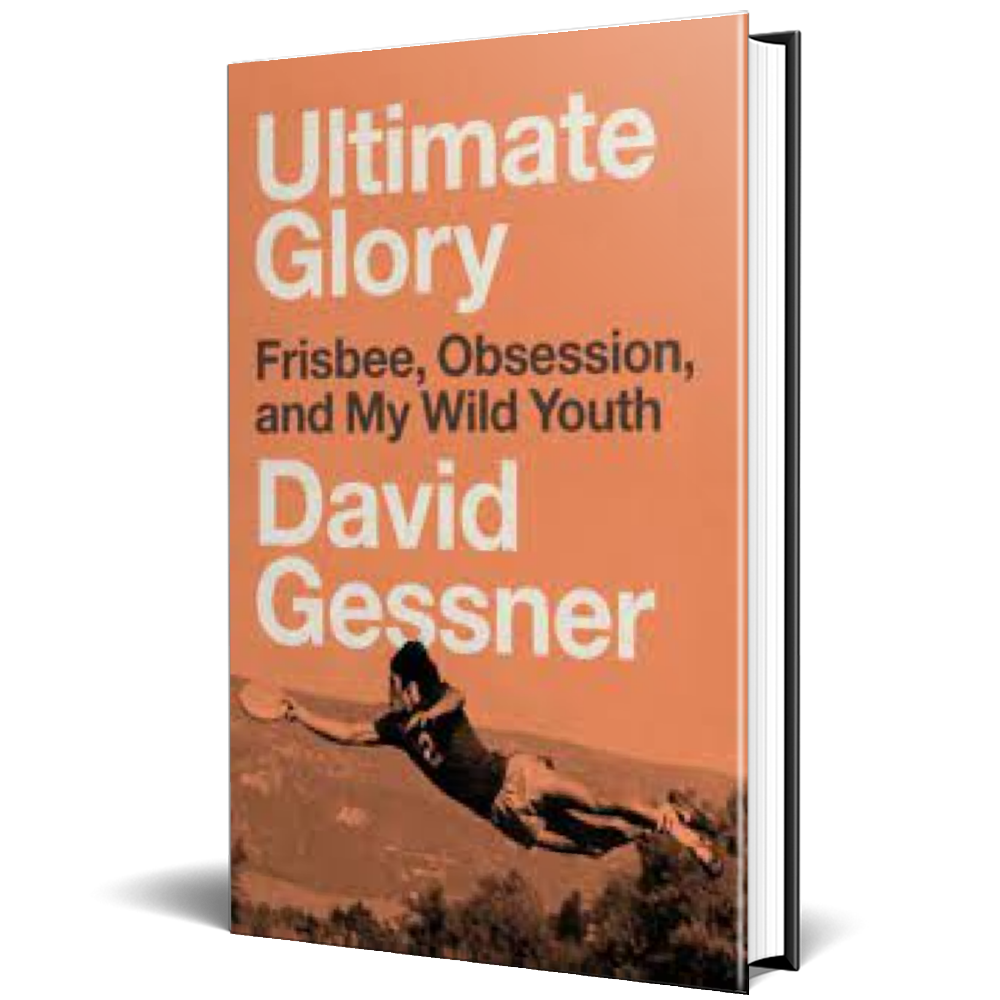 Overview:
A story of obsession, glory, and the wild early days of Ultimate Frisbee.
David Gessner devoted his twenties to a cultish sport called Ultimate Frisbee. Like his teammates and rivals, he trained for countless hours, sacrificing his body and potential career for a chance at fleeting glory without fortune or fame. His only goal: to win Nationals and go down in Ultimate history as one of the greatest athletes no one has ever heard of.
With humor and raw honesty, Gessner explores what it means to devote one's life to something that many consider ridiculous. Today, Ultimate is played by millions, but in the 1980s, it was an obscure sport with a (mostly) undeserved stoner reputation. Its early heroes were as scrappy as the sport they loved, driven by fierce competition, intense rivalries, epic parties, and the noble ideals of the Spirit of the Game.

Ultimate Glory is a portrait of the artist as a young ruffian. Gessner shares the field and his seemingly insane obsession with a cast of closely knit, larger-than-life characters. As his sport grows up, so does he, and eventually he gives up chasing flying discs to pursue a career as a writer. But he never forgets his love for this misunderstood sport and the rare sense of purpose he attained as a member of its priesthood.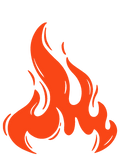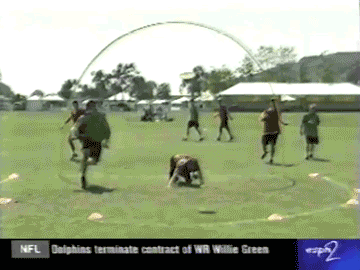 Press & Reviews For Ultimate Glory
"An exploration of the questing desires of the young heart, 'Ultimate Glory' should be recommended reading for every college student. A 20-something, unsure whether to listen to the yearnings of the soul, might find answers in Gessner's chase of a flying plastic disc." — The Washington Post
"David Gessner spent 20 years of his youth in the game's thrall, and he revisits them in Ultimate Glory: Frisbee, Obsession, and My Wild Youth, a joyous memoir that explains how 'a 175-gram plastic disc' tempered his character and fate. Along the way we get marijuana, psychotropic mushrooms, sex, angst, friendships, cultural commentary, testicular cancer and lots of beer. The word Frisbee 'is a hard one to take seriously,' Mr. Gessner admits. But his book is substantial, bearing comparison to William Finnegan's Pulitzer Prize-winning surfing memoir, 'Barbarian Days' (2015)." — The Wall Street Journal
"Gessner reflects with honesty and humor on his dedication to the sport of Ultimate Frisbee. He describes the sport's ragtag culture as well as his annual quest for a national championship during his formative 20s in the mid-1980s. Gessner defends Ultimate's anti-sport ethos but uses traditional sport themes, such as clutch performance, training regimes, and tournament drama. The book could have been tightened to more succinctly describe his musings on the idealistic and conflicting 'Spirit of the Game' philosophy and the ambivalent effect of Ultimate on his behavior, relationships, and, most intriguingly, a writing career in desperate need of a jump start. What saves the book is, in Ultimate parlance, Gessner's ability to 'lay out' (to dive while making a catch): he is honest, especially in his observation of how he's matured since his Frisbee days. He also remains entertainingly unrepentant about a decade spent in the throes of a game that itself was evolving beyond its carefree image. Gessner nicely captures the persistent pursuit of greatness in the face of doubt and failure." — Publishers Weekly
"A sprawling memoir and charting of one semi-toxic male's evolution as viewed through the oft-derided, but very popular and high-impact sport of ultimate frisbee, Ultimate Glory: Frisbee, Obsession, and My Wild Youth also ruminates on aging, the creative process, and calming down. And if not exactly selling out, then navigating the uncomfortable ways that the things that you care about a whole lot slip away or just change and why you'd be advised to just get used to that shit and hold onto the parts you can hold onto. It is also, as far as I know, the definitive history of ultimate frisbee—a sport co-created as a lark by the guy who later went on to produce 'Lethal Weapon' and 'The Matrix'—which went from 'a sport few outside of it took seriously,' to, well, something that matters to a sizable chunk of people these days. 
"Think of Ultimate Glory: Frisbee, Obsession, and My Wild Youth as a mock version of William Finnegan's Barbarian Days: A Surfing Life, even down to the sun faded oranges and browns of its cover design, where the tone is scrappier, sillier, and even more stoned, though just as reflective as Finnegan." — Brandon Soderberg of the Baltimore Sun
"What's the appeal of a nontraditional sport like Ultimate Frisbee? Self-officiated athletic competition, the thrill of outreaching your opponent for a flying disc (known as skying), team camaraderie, and membership in a tribe of nonconformists—all of which drew author Gessner (All the Wild That Remains, 2015) to the sport during his years at Harvard. This memoir offers both an insider's perspective on the unique culture of Ultimate, focusing on the 1980s and 1990s, and a poignant account of an aspiring writer as he transitions to manhood. Along the way, Gessner pays homage to the sport's pioneers, including Hall of Famers Kenny Dobyns and Steve 'Moons' Mooney, and details classic battles between rival teams. The history of Ultimate may be young compared with basketball and football, but now that it's being considered for inclusion in the 2024 Summer Olympics, it's sure to gain a bigger stage. An important contribution to the history of Ultimate—not a 'hippie-dippie' activity but an exciting sport requiring tremendous athleticism worthy of respect." — Brenda Barrera of Booklist
"In Ultimate Glory, David Gessner lets loose a barbaric yawp, akin to Whitman's in Song of Myself: 'I was the man, I suffered, I was there.' Read it for all the hucks and layouts, for the epic battles between Hostages and Rude Boys, and for its fascinating history of the sport. But even more, read it to hear one of America's most gifted writers sing an unabashed love song to the glory of being alive." — Patrick Phillips, author of Blood at the Root
"Gessner's enthusiasm is unmistakable, and there's much to commend the story as a case in point of how a kid, once finding his or her métier, can make a pastime a life-transforming experience." — Kirkus Reviews
"Even if I watched him play, I wouldn't be able to tell you if David Gessner is any good at Ultimate Frisbee. But the man can write, and this homage to his oddball sport is rich with life's joys, sorrows and universal truths." — Dan Shaughnessy, New York Times bestselling co-author of Francona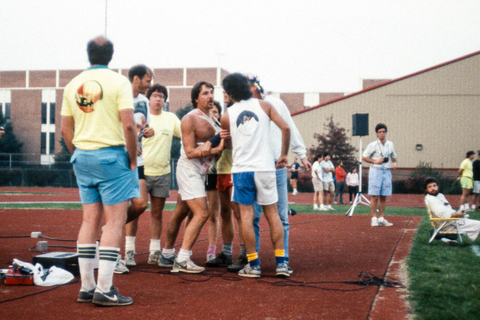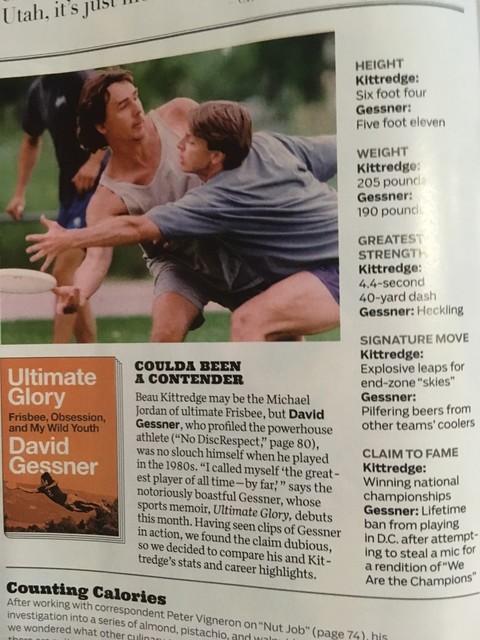 My Outside Magazine profile of Beau Kittredge is now on newstands.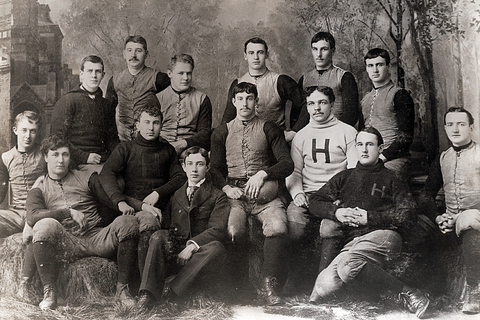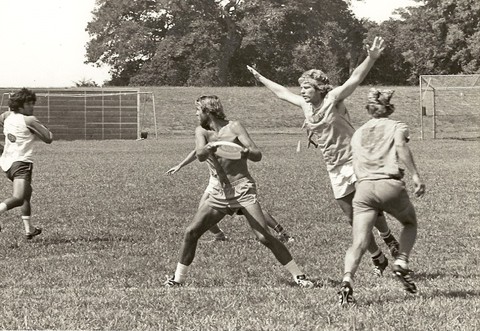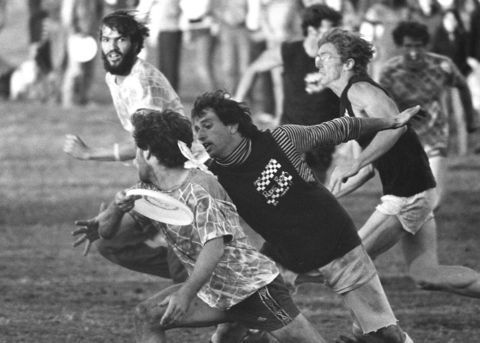 Some unknown later players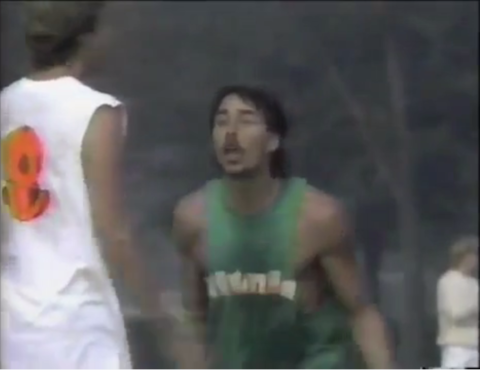 The author of Ultimate Glory involved in a friendly discourse with the director of Flatball.
Excerpt From Outside Magazine
It all starts with the Catch. This is the origin story—when Beau Kittredge separates himself from the pack and becomes just Beau in ultimate circles. Watch the video at normal speed and you ­almost miss it. But slow it down and you can see the moment unfold. A player in a yellow jersey throws the disc half the length of the field—some 35 yards. One of his teammates is chasing it down, running at full speed, stride for stride with a defender in a black shirt and white baseball cap. They close in on the disc as it arcs and floats down. Then, suddenly, another player in yellow ­appears—Kittredge. He's taller than the others and moving faster, but he's out of position, the defender blocking his path. He has no chance. Kittredge jumps anyway, and an astonishing thing happens: his legs are now on either side of the white baseball hat. At the peak of his leap, he catches the disc, then lands in front of the man who, a half-second before, he was behind. He pauses a beat, then, as surprised as everyone else, turns to the sideline and asks, "Did I go over him?"